To make your reservation please click on the green button next to the trip you would like to go on.
Then follow the instructions to complete your reservation now.


Trips Schedule
No trips found.
Give the Gift
of Fishing!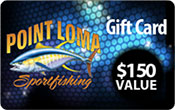 You can Buy a
Gift Card for Your
Favorite Angler from
Point Loma Online.
Buy Now